Are you ready to re-discover your mojo?
WPTK (Wapentake) biker skull unisex fit T-shirt - various colours
Regular price
Sale price
$33.53 USD
Unit price
per
Sale
Sold out
✅ Hand-printed in England 
✅ 30-day money-back guarantee
✅ Exclusive design
✅ 5-star reviews
✅ 5-star customer service.
This legend of a bar actually started life adorned with flowery table clothes and was a hit with lunchtime shoppers. But that was before the legendary Olga Marshall took over the management and roped in former Buccaneer DJ George Webster.

It was the start of a two-decade reign as rock bar number one in the Steel City. Everything from staging one of the earliest Def Leppard gigs to the band's triumphant return in 1995 happened in this subterranean establishment – the Wapentake was a melting pot for punks, rockers, bikers and anyone else giving the glitzy disco bars a wide berth. 
This stylish, top-quality T-shirt is crew neck in style and regular fit with short sleeves that can be rolled up.
This Dirty Stop Outs-branded garment is both hand-printed in England and uses nothing but 100% super soft, pre-shrunk cotton.
Be assured that the garment is ethically sourced. 
It is available in the following sizes:
Small - Chest 34-36 inches
Medium - Chest 38-40 inches
Large - Chest 40-42 inches
X Large - Chest 44-46 inches
XX Large - Chest 48-50 inches
XXX Large - Chest 52-54 inches.
Further details:
Premium quality unisex T-shirt - 145gsm.
Garment pre-shrunk for dependable after-wash performance.
Machine washable. Wash at 30. Iron inside out. Do not tumble dry.
30-day no quibble money-back guarantee on all goods - how retro rock'n'roll is that?
Free UK shipping when you spend over £55 - we LOVE our customers!

Free shipping over £75 & a money back guarantee.
Over 50,000 Dirty Stop Outs Guides sold - we've been a no. 1 best-seller at Waterstones!
Thousands of satisfied customers - we've received more 5 star reviews than you could shake a stick at. We're in retro rock'n'roll heaven! :-)
Share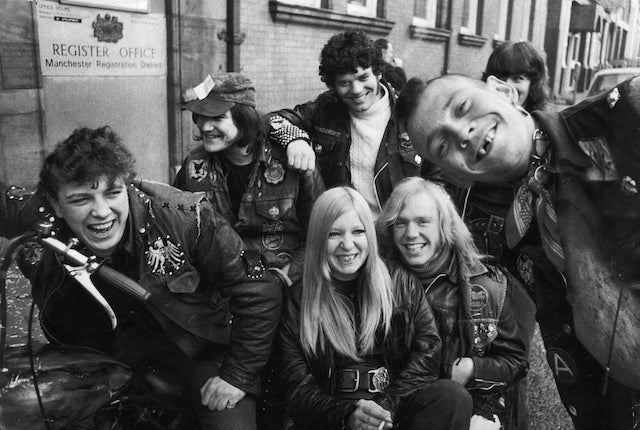 Are you ready to re-discover your inner rock star?
Get ready to re-visit your misspent youth with a Dirty Stop Out's Guide! Each edition is guaranteed to contain hundreds of rare and forgotten memories; scores of never seen before photos and takes over a year of research to produce. These books make perfect gifts that last a lifetime – or why not treat yourself? And when we've put that youthful spring back in your step it will time to update that tired wardrobe and show the young pretenders a clean pair of heels. Pick yourself a head-turning design from the Dirty Stop Outs apparel department and you'll be more than ready to (dis)grace the dancefloor once again. :-)
30-day, money back guarantee on everything

Love your Dirty Stop Outs purchase, or receive a full refund if you return the goods within 30 days. We sell to rock stars and believe in rock star customer service... For everyone!

Free UK delivery

Delivery is on us for all orders over £55 - how retro rock'n'roll is that?

Will you re-discover your rock'n'roll mojo?

We've had tens of thousands of 5 star reviews, been featured everywhere from BBC Radio 6 to Kerrang! and even the Rough Guide recommends us.