Are you ready to re-discover your mojo?
The Reel Monty/ City On The Move DVD
Regular price
Sale price
$18.64 USD
Unit price
per
Sale
Sold out
This is the full-length version of the 1971 Sheffield promotional film that inadvertently fronted one of the most popular films of all time, The Full Monty.

The Reel Monty – originally titled City On The Move - would have been consigned to the archives if it wasn't for one of the most incredible stories in British movie history.
In 1997, after a long search, the makers of the flick were tracked down by a film company planning a low-budget movie about a bunch of redundant steelworkers turning to stripping for a living.
Jim and Marie-Luise Coulthard glady accepted the company's offer of £400 for the rights to use some of their footage.
By the time The Full Monty received its fifth Oscar nomination, the couple had helped 20th Century Fox gross over £180m!
The Reel Monty captures the booming city of the early 1970s that boasts long-gone civic icons like the Hole In The Road (an award-winning subterranean, pedestrianised area complete with shops, tropical fish tank and all-weather escalators) and The Fiesta (the biggest nightclub in Europe that once held a date open for Elvis – he never arrived); the "streets in the sky" of the then ground-breaking Park Hill Flats complex; Sheffield Show in its heyday, Millhouses Park lido and much more.
The Star newspaper said: "This is a true classic. If you remember the city in the confident days of the early 1970s you'll be totally hooked!"
30-day no quibble money-back guarantee on all goods - how retro rock'n'roll is that?
Free UK shipping when you spend over £55 - we LOVE our customers!

Free shipping over £75 & a money back guarantee.
Over 50,000 Dirty Stop Outs Guides sold - we've been a no. 1 best-seller at Waterstones!
Thousands of satisfied customers - we've received more 5 star reviews than you could shake a stick at. We're in retro rock'n'roll heaven! :-)
Share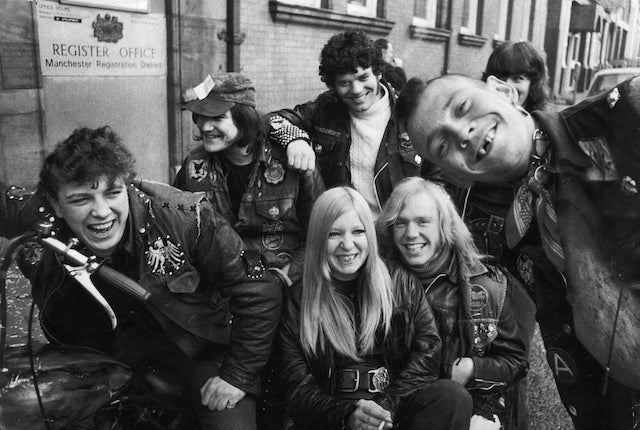 Are you ready to re-discover your inner rock star?
Get ready to re-visit your misspent youth with a Dirty Stop Out's Guide! Each edition is guaranteed to contain hundreds of rare and forgotten memories; scores of never seen before photos and takes over a year of research to produce. These books make perfect gifts that last a lifetime – or why not treat yourself? And when we've put that youthful spring back in your step it will time to update that tired wardrobe and show the young pretenders a clean pair of heels. Pick yourself a head-turning design from the Dirty Stop Outs apparel department and you'll be more than ready to (dis)grace the dancefloor once again. :-)
30-day, money back guarantee on everything

Love your Dirty Stop Outs purchase, or receive a full refund if you return the goods within 30 days. We sell to rock stars and believe in rock star customer service... For everyone!

Free UK delivery

Delivery is on us for all orders over £55 - how retro rock'n'roll is that?

Will you re-discover your rock'n'roll mojo?

We've had tens of thousands of 5 star reviews, been featured everywhere from BBC Radio 6 to Kerrang! and even the Rough Guide recommends us.