Are you ready to re-discover your mojo?
Fiesta cabaret club - signed Alan Pennington art print - framed
Regular price
Sale price
$83.20 USD
Unit price
per
Sale
Sold out
The influence of most clubs are consigned to the decade they operated in and the people that frequented them.

But the impact of Sheffield's Fiesta cabaret club has spanned generations. The palatial venue attracted the biggest stars in the world and was the largest nightclub in the whole of Europe - that's why we decided it was to be one of four venues that would feature in a partnership with celebrated up-and-coming artist Alan Pennington.
He has re-imagined the venue with the help of scores of Fiesta-goers that provided memories and memorabilia. The Dirty Stop Outs has worked with him to provide a unique depiction of this truly iconic venue that influenced the lives of thousands of people in the 1970s.
Only 100 collector's edition prints are available. They are individually signed, numbered and now come with a certificate of authenticity.
Alan Pennington is a rising star of the Sheffield arts world with his work increasing in value year-on-year.
The framed print is available in two sizes and is printed onto premium gloss 210gsm paper. All framing is done by hand and everything is made to order.
Medium Framed Prints (Print Size: 20 x 29cm, Total Size Including Frame: 32.5 x 42.5cm)
Large Framed Prints (Print Size: 29 x 39cm, Total Size Including Frame: 42.5 x 53cm)
A donation is being made to Sheffield Mind charity for every print sold. 
30-day no quibble money-back guarantee on all goods - how retro rock'n'roll is that?
Free UK shipping when you spend over £75 - we LOVE our customers!

Free shipping over £75 & a money back guarantee.
Over 50,000 Dirty Stop Outs Guides sold - we've been a no. 1 best-seller at Waterstones!
Thousands of satisfied customers - we've received more 5 star reviews than you could shake a stick at. We're in retro rock'n'roll heaven! :-)
Share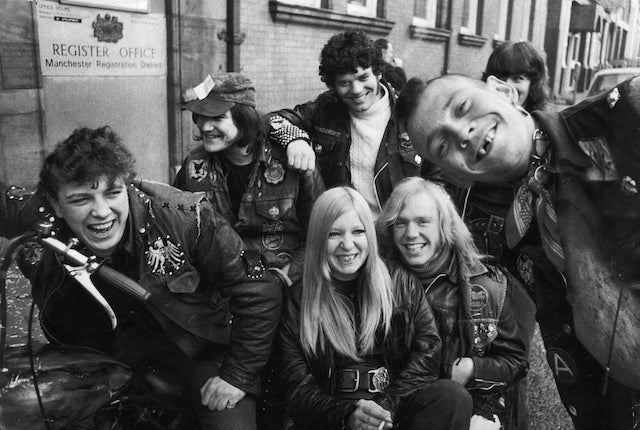 Are you ready to re-discover your inner rock star?
Get ready to re-visit your misspent youth with a Dirty Stop Out's Guide! Each edition is guaranteed to contain hundreds of rare and forgotten memories; scores of never seen before photos and takes over a year of research to produce. These books make perfect gifts that last a lifetime – or why not treat yourself? And when we've put that youthful spring back in your step it will time to update that tired wardrobe and show the young pretenders a clean pair of heels. Pick yourself a head-turning design from the Dirty Stop Outs apparel department and you'll be more than ready to (dis)grace the dancefloor once again. :-)
30-day, money back guarantee on everything

Love your Dirty Stop Outs purchase, or receive a full refund if you return the goods within 30 days. We sell to rock stars and believe in rock star customer service... For everyone!

Free UK delivery

Delivery is on us for all orders over £75 - how retro rock'n'roll is that?

Will you re-discover your rock'n'roll mojo?

We've had tens of thousands of 5 star reviews, been featured everywhere from BBC Radio 6 to Kerrang! and even the Rough Guide recommends us.